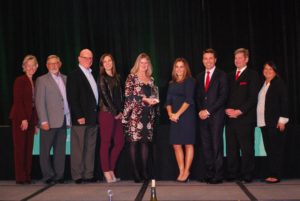 October 18, 2018 – Grow Ashland earned 1st Place in Excellence Award in Marketing & Communications during the OEDA (Ohio Economic Development Association) 2018 Annual Summit reception held at the Columbus Renaissance Downtown. The award recognizes successful economic developing marketing projects or marketing campaigns.
The Grow Ashland team spent 2017 and 2018 fine-tuning the Grow Ashland message to make it consistent across marketing material and strengthen its impact from local to international levels. A brand video was released early 2018 that included testimonials of local business people that support Grow Ashland's mission statement. The marketing brochure was expanded and converted to a European size which makes it stand out when compared to others. Apparel and event props now have a consistent logo which increases local awareness for our economic development office.
Kathy and Erin were joined in Columbus by Grow Ashland Board President and County Commissioner Mike Welch; Grow Ashland Board Vice-President and City of Ashland Mayor Matt Miller; Advantage Marketing's Gary Underwood and Nicole Rathbun; Ashland County Commission President Denny Bittle; Grow Ashland Summer Intern Anna Rowland; CIC Treasurer Hal Sheaffer; and former Ashland County Commissioner and Grow Ashland Volunteer, Barb Queer.